The Latest Issue of American Digger® Magazine is Here!
American Digger March-April 2018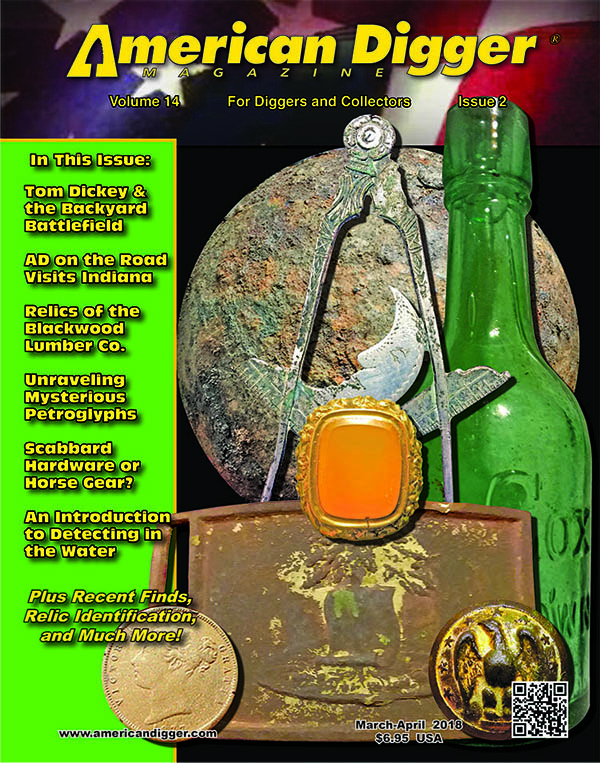 American Digger is Your Magazine!
Dedicated to those who preserve our past through responsible metal detecting, digging and collecting. In each issue, you'll find articles covering all types and periods of history being discovered:
• military   • civilian   • ancient   • natural
We take our digging seriously, but we also have fun doing it. We invite you to join us, enjoying six info-packed issues a year, for only $36.95 for an annual subscription.
In American Digger Magazine, you'll enjoy recent finds shared by our readers, including recovered artifacts such as:
coins from many eras and countries
antique buttons and buckles
antique and modern jewelry
American Revolutionary, Indian and Civil War related relics and artifacts
WWI and WWII relics
bullets, cannonballs, guns and artillery
a variety of military insignia and equipment
Native American arrowheads and other points
old pottery and bottles
fossils and meteorites
…to list just a few examples.
Other regular features include:
Stories – exciting and informative articles on metal detecting, bottle hunting, arrowhead and fossil searching, and other collecting adventures
Product Reviews – of equipment, accessories and resources related to the hobby
How-To Tips – on everything from maintaining your metal detecting equipment and how to use it, to where to search, and how to identify and restore your finds
Relic Preservation – Techniques to optimize display while conserving physical integrity and historic value
Interviews – with those who rescue and collect the past, including celebrities
Articles From Our Readers – Relic hunting enthusiasts can become aspiring American Digger authors by submitting their stories for publication consideration
And so much more!
EVENTS – American Digger Presents
South Carolina Low Country Civil War Show and Sale 
January 6-7, 2018
Omar Shrine Temple
176 Patriots Point Rd.
Mt Pleasant, SC 29464